Lack of true romance in American cinema comes into sharp focus when you see Slow, a fantastic Lithuanian film premiered at the 2023 Sundance Film Festival, deservedly earning Marija Kavtaradze the Directing Award at World Cinema Dramatic competition.
The title is something of a misnomer. The couple at the heart of Slow falls in love quickly. They limp at coming to terms with what each other brings to the relationship. Or rather, does not bring. Dovydas (Kestutis Cicenas) is a translator for the deaf, and Elena (Greta Grineviciute) is a dance instructor. He shows up to translate in a class for deaf kids and get along right away. Soon, they are casually spending time together. The chemistry is undeniable. You sense they belong together, but there is an obstacle. As they naturally reach the point where attraction gives way to action, he fesses up about being asexual, giving Elena, and us, pause.
We look perfect together: Grineviciute eyes Cicenas in Slow / Photo courtesy of Totem Films and Sundance Institute
Is he playing hard-to-get? A confused gay man? Well, no. Dovydas feels love without desire, like the kids who dance without hearing the music. It is not a handicap Elena can wrap her head around. What does it mean to be asexual? Can they build a relationship bearing that fact? Her doubts become our own, but just as well, she gets emotionally involved with him. Her attempts at initiating sex go nowhere. They contemplate an open relationship, but it does not work out. Sparks fly with a swarthy colleague, but Elena is incapable of following through. She wants to possess the man she loves; things to be normal - whatever that is. The existential question becomes, can you renounce the prevailing idea of normality in the name of love?
Elena is as physical as only a dancer can be, making her latent desire for a sexual connection even more lacerating. The camera embodies her feelings. On their first meeting, it moves fluidly, following the gracefully waving arms of the young charges. Anything is possible. Once frustration sets in, you get a number where the camera remains static in a medium close-up as Elena, and two fellow dancers, perform a shaky choreography within the tight condiments of the frame without ever touching. Later, in one of their misguided attempts at physical intimacy, the couple moves playfully around the kitchen, but the impromptu dance does not lead anywhere. Slow is the best film about dancing since Climax (Gaspar Noe, 2018), with the added benefit of not being a nihilistic tragedy.
Dance the pain away: Grineviciute and friends have mad moves in Slow / Photo courtesy of Totem Films and Sundance Institute
Dovydas has his expressive action, which works as an ironic counterpoint. We get occasional scenes of him translating romantic songs for a TV station. The maudlin, simple feelings of the lyrics contrast with the complex, unlikely romance he is living. The first time we see him, he is working on a poppy rock number performed by a girl trio. The kitschy electronic visual background contrasts with the spartan TV studio. It is as artificial as the romantic illusions we push on the persons with whom we fall in love.
Elena and Dovydas' issues might be one of those rare cases where "it's not you, it's me'' turnsout to be a fair assessment, but it still stings for a woman body-shamed in her past. When the couple visit her mother, the thin, elegant woman reveals herself as a judgmental monster. Elena is short, muscular, and magnificently flexible on the exercise mat or the dance floor. Still, Mother puts her down for her childish dreams of being a ballerina, having a body like that. All you need to know about her background seeps through in one of the most uncomfortable tea dates you will ever witness. With this information about her upbringing, you understand how the refusal to have sex play into her traumas.
The rituals of standard monogamy flourish around, teasing them about what they will never have. Dovydas' deaf brother gets married. Vilius (Pijius Ganusauskas), Elena's ex-boyfriend, flutters around with the possibility of rekindling their relationship. Testimony of life under chastity vows comes from Viktorija (Laima Akstinaite), a childhood friend who became a nun right after school.
The movie walks a tight line. It never paints sexuality - or lack thereof - as a pathology. It also allows Elena's mounting frustrations to come forward. It never falls into didacticism, either. The characters are too specific and true-to-life to become symbols or teaching devices. Dovydas struggles with his sexuality, or at least with how it affects his relationship with others.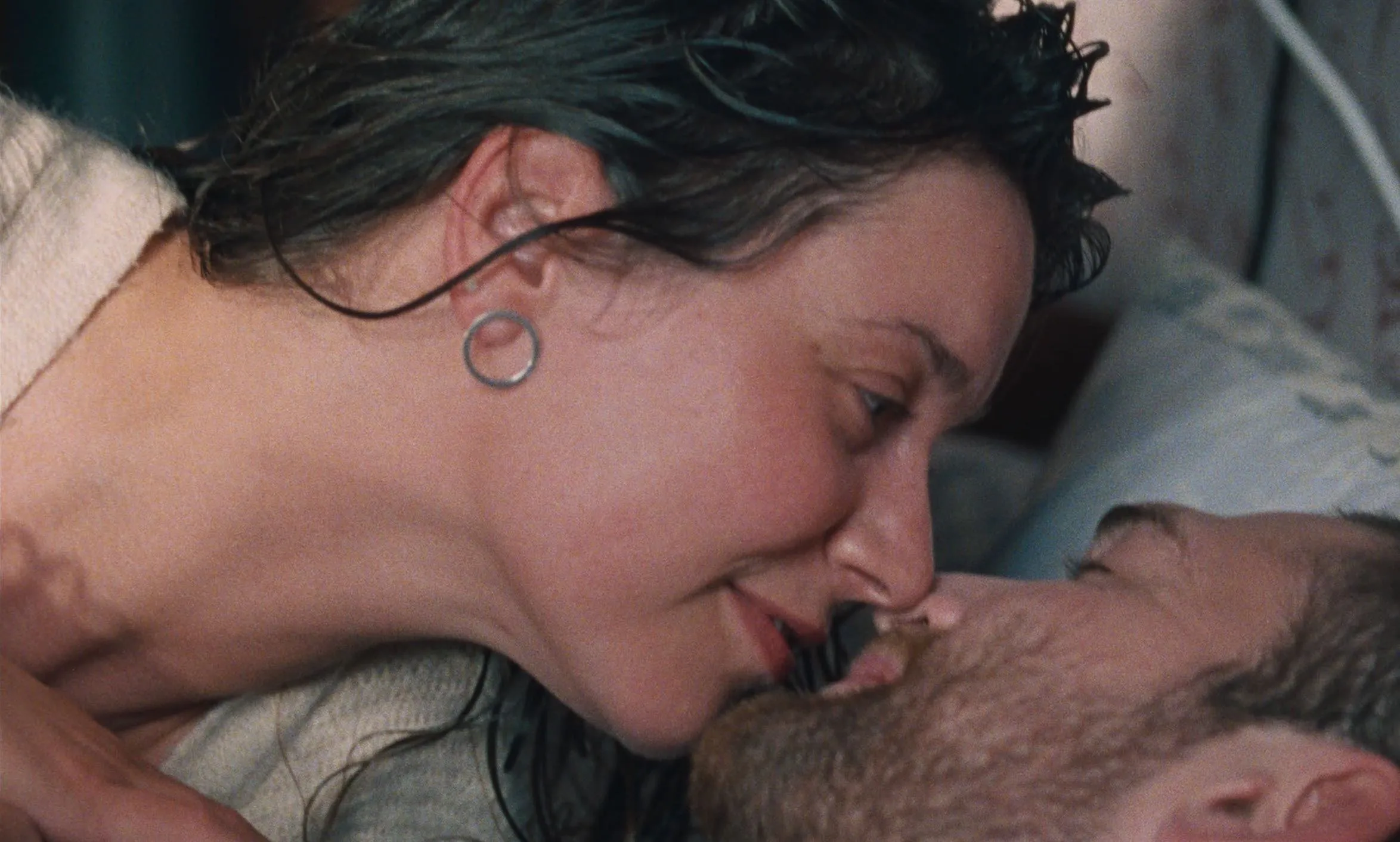 I wanna sex you up: Grineviciute and Cicenas try and try again in Slow / Photo courtesy of Totem Films and Sundance Festival
At times, Grineviciute looks like a young Emmanuelle Devos. She exudes a playful carnality which makes her predicament much more daunting. Cicenas projects a sweet wickedness devoid of malice. They look disarmingly normal, perfect for a grounded romance. Slow comes when a strain of conservative opinion flourishes on social media, decrying an imaginary abundance of sex scenes in American films. And it does not come exclusively from audiences. The last round of controversy started with actor Penn Badgley sharing he returned to the fourth season of the Netflix series You under the condition of limiting sex scenes.
"Can I just do no more intimacy scenes?…Like, fidelity, in every relationship, and especially my marriage, is important to me. And it just got to that point where I don't want to do that,"
Badgley has every right to establish his boundaries, but it is odd to equate dramatic make-believe with actual infidelity, pretend sex with intercourse. The No Sex, Please contingent already won. Movies coming out of Hollywood have never been more stodgy and sexless, like the Hays Code came back into fashion at every studio.
Slow reminds us that sex in movies is not just about the morbid depiction of naked bodies getting it on but a crucial part of the self and human relationships. To keep it off-limits of film shortchanges artists and audiences. The movie advances to its bittersweet conclusion confirming how daunting it can be to align our feelings and desires. A dance scene that points toward romantic communion, while a final song speaks of disillusion. It is so hard to translate the language of love into action, but we cannot help but keep trying.