Whitney Houston's prodigious voice sounds loud and clear in I Wanna Dance with Somebody. That is the closest this sanitized biographical picture gets to genius. The tragic pop diva and her fans deserved better. 
The project came up in the aftermath of a documentary death match. Whitney: Can I Be Me (Nick Broomfield, Rod Dolenzal, 2017) was the first out of the gate. British filmmaker Nick Broomfield took a warts-and-all approach that kept the family from collaborating. One year later, Whitney (Kevin McDonald, 2018) came up with the full cooperation of the Houston family, but suffered in comparison. The timeline points to the movie now released, which began its production journey in 2020, as a response to these third-party examinations - or eviscerations - of Houston's life and legacy. Alas, they all feel redundant because the highs and lows of the prodigious singer were so public in nature.
Whitney Houston: I Wanna Dance With Somebody takes the title of her hit song as a rallying cry. We meet teenaged Whitney (Naomi Ackie) as she sings at church under the stern directions of mother Cissy (Tamara Tunie). Sniveling dad John (Clarke Peters), plots how to milk her talent for what it's worth. None of them can prevent bubbly Whitney from hooking up with Robyn (Nafessa Williams), the tomboy who becomes her first love and right-hand woman on the road to stardom. Music executive Clive Davis (Stanley Tucci) swoops in with a contract and a ticket to success. Big hits followed as well as bouts with addiction, a stormy marriage with fellow musician Bobby Brown (Ashton Sanders), and an accidental death.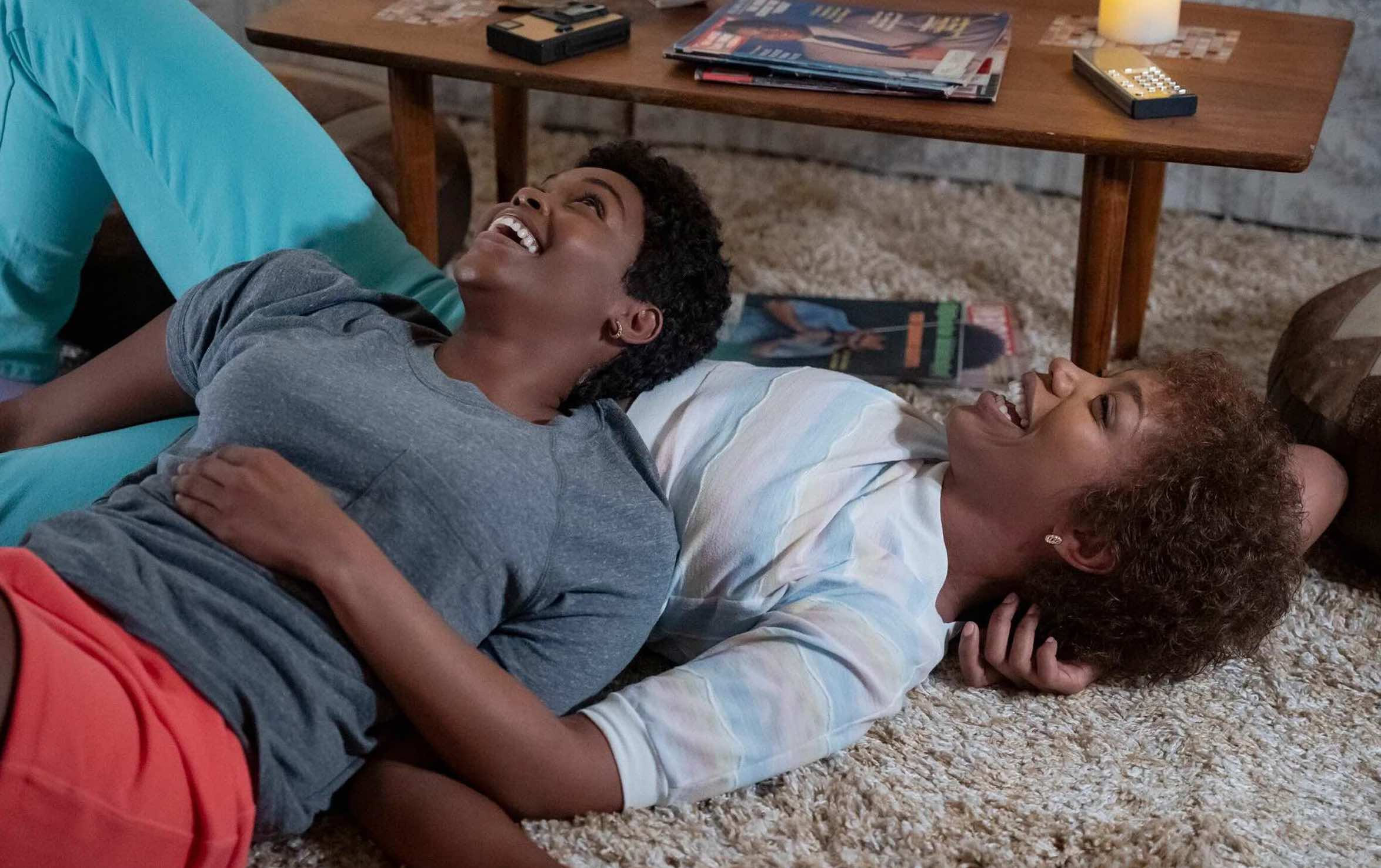 Didn't we almost have it all?: Williams and Ackie play house in I Wanna Dance with Somebody / Photo Credit: Sony Pictures
You know all this. We witnessed the rise and fall of Whitney in real-time. While the tabloids digged dirt, the singer became complicit in her own exploitation. Being Bobby Brown (2005), a reality show produced by Bravo Networks, exposed the couple in ways that made a mockery of their dysfunction. It was cruel trash and a dark milestone in the degradation of the medium and pop culture: America gleefully tearing down the goddess they worshiped just a few months back.
You will not see any allusion to Being Bobby Brown in the movie. The script by Anthony McCarten crams in well-known episodes and glosses over the lows. In a way, you feel somewhat relieved. Didn't Houston suffer publicly enough? The entertainment press turned her pain into a spectacle. Even if the movie works as a sanitized biopic, the most controversial aspects of her life are so well-known that they just can't be ignored. The alternative is to drain them of pathos. Check out how the movie sands off the edges of the combative, competitive relationship with her mother. Or how the family deals with the sexual relationship between Whitney and Robyn. Everything plays like a scene out of those made-for-TV behind-the-scenes movies VH1 used to produce in the aughts: low-key sensationalism bathed in nostalgia.
By doing this, I Wanna Dance With Somebody evades the opportunity to explore how our relationship with celebrities changed over the span of Houston's career. Sure, many others before her reached great heights and went on to spectacular falls - Hello, Elvis! - but there is something new in the meanness projected towards her at her most vulnerable. Is it because she was a black woman? Or the particular place she occupied in the pop landscape? The movie dwells for the length of a scene on the criticism that her music was "not black enough." The filmmakers set the argument as hate coming from a hater, and Whitney dismisses it with sassiness. An interesting question is sacrificed for an empty you-go-girl moment. 
Under Clive Davis' guidance, Houston became an easy sell for white audiences. Was her authenticity compromised? Did she had the right to concentrate on prefab pop because that is the material that spoke to her? Any cultural controversy is neutralized by having Stanley Tucci, America's favorite uncle, playing Davis without a hint of ambiguity. Houston's pop confections were irresistible. They were heightened by the power of her voice, not necessarily by their lyrics or the melodies. It is not an accident that her most memorable song is I Will Always Love You, composed and originally recorded by Dolly Parton. That, and The Star Spangled Banner. The national anthem hit the top of the charts thanks to her rendition at the 1991 Super Bowl.
The woman had a way with a song. The movie only comes alive when it stages well known moments of her career, like the Super Bowl and bits of the I Wanna Dance With Somebody video clip. The main agenda is evoking her joy in performing. It is not by accident that the climax is a flashback. Whitney stages a comeback after years out of the limelight. Then, the movie goes back to the 1994 American Music Awards, where she tore the roof with a medley that combined Gershwin's classic I Loves You Porgy, the breakout hit from Broadway's musical Dreamgirls And I'm Telling You I'm Not Going, and her own hit I Have Nothing, from the soundtrack to her movie, The Bodyguard (Mick Jackson, 1992). The only thing the songs have in common is that they provide a workout to her masterful instrument.
It is an earth-shattering performance. It gives the movie an upbeat climax and allows the filmmakers to sideline the diminishment of her voice due to years of tobacco intake, drug abuse, and health issues. You get a bit of a news story about how fans in Denmark demanded their money back when they heard her singing on her last tour. I remember some live performances from the time, and you could tell something was different. Not putting so much emphasis on this fact is one last act of kindness to a woman who did not receive much in her lifetime. It makes for good karma but not necessarily for good drama.
British actor Naomi Ackie manages to sell the part, but the movie does not allow her to go beyond posturing. It is karaoke as a film. If you want to see director Kasi Lemmons at her best, look up Eve's Bayou (1997), a masterful southern gothic drama with great performances by Samuel L. Jackson, Lynn Whitfield, and a very young Jurnee Smollet. There is more humanity in Beauty (Andrew Dosunmu, 2022), a low-key independent production inspired by her early days, available on Netflix. The names are changed, but the drama is the same. Movies have failed to do justice to Houston. You can watch four movies to try to grasp Houston's genius, but it seems like a waste of time when you can get to know the woman by listening to a three-minute-long song. 
Want to get an email when we publish new content?
Subscribe today