Our Sundance coverage began with 20 Days in Mariupol, a sobering documentary about the siege of the devastated Ukrainian city. Things got lighter fast, with a movie-mad documentary going extra for zaniness. Penelope Cruz vamps around as dream-like mother, in stark contrast to the women of Birth/Rebirth who may as well come from nightmares. Check out our first run-down, straight from the virtual trenches of the Festival.
KIM'S VIDEO
Like most movie lovers who grew up on VHS tapes, I belong to the Church of Physical Media. Sure, streaming is nice. But can you hold a digital file in your hand? Can it take up space on your shelves? And most importantly, can it wait for you to see it when you want, without disappearing due to a contract running out of its course? Of course not! For my generation, video stores occupy a special place akin to a favorite movie theater. Most of us are not New Yorkers who enjoyed Kim's Video Membership, but we can project our warm feelings into the plight of David Redmon and Ashley Sabin. The two filmmakers who made a documentary out of their mad pursuit of the hallowed video collection years after the last location closed.
Kim's Video rides on one of those stranger-than-fiction stories. Founder Youngman Kim offered the treasure trove of film to any institution that could guarantee maintenance and access to the public, and the winning proposal came from Italy. The mayor of Salemi, a small Sicilian hamlet, offered to build a cultural center to house the collection. It was supposed to be the cornerstone of a revitalization program that would turn the sleepy town into an international destination. Years later, the tapes languished in an unlocked room rife with mold and moisture. What happened?
The dapper Mr. Kim: Youngman found the hallowed vide store Kim's Video / Photo courtesy of Sundance Institute
Redmon and Sabin set out to find out, traveling to Salami. They visit the facility, track the politicians and bureaucrats involved, and even Mr. Kim in South Korea. The documentary exploits any movie-mad association it can, hinting at mob involvement and corrupt politics, but in a self-satisfied tone that feels like someone incessantly nudging you in the ribs. Clips from well-known movies drive the point home. Shady Italians get associated with The Godfather (Francis Ford Coppola, 1972). A smarmy politician's alleged proclivity for sex parties gets him a cut to a scene of Eyes Wide Shut (Stanley Kubrik, 1999).
It feels like listening to a movie-obsessed kid droning on and on about how movies connect to life in the most superficial way. After a while, you realize this is the documentary equivalent of a shaggy dog story. The filmmakers even fashion a heist sequence to infuse excitement as they maneuver to bring the collection back to New York. They start as reporters and end up as activists. Wearing cutouts of the faces of famous directors and stars, they put on a show for our benefit and their movies.
It is gratingly cute. One can only find solace in thinking what Godard would say about being named as a collaborator just because a guy put on a mask with his face on when he pretended to steal a box of tapes. The main problem is that Kim's Video abandons the possibility of doing an in-depth portrayal of a fascinating moment when expanded access to film energized a generation of filmmakers and film fans. 
L'immensità
Penelope Cruz can add a new entry to her gallery of formidable mothers thanks to Emanuele Crialese's memory piece. The ultimate Almodovar Girl plays Clara, a well-to-do Spaniard expatriate in 70s Rome, trapped in a loveless marriage. While her husband Felice (Vincenzo Amato) dabbles in infidelity, she finds emotional support in her warm relationship with her three children. As puberty settles in, the eldest, Adriana (Luana Giuliani), realizes the childhood suspicion of feeling like an alien is a childish way of coming to terms with gender. When meeting Sara (Penelope Nieto Conti), a beautiful poor girl living in nearby construction worker encampments, Adriana becomes his true self, Andrew. 
Cruz can't stop, won't stop being beautiful in Crialese's L'Immensita / Photo courtesy of Sundance Institute
Cruz manages to distinguish Clara by being fearless at showing frailty. Check out how her otherness, as a Spaniard living in Italy, isolates her furthermore. And how her mother tongue becomes something that strengthens the connection with her bilingual, bicultural children. There is genuine warmth in her relationship with Andrew. Crialese, who identified as a trans man upon the premiere at the Venice Film Festival, offers an understated, touching remembrance. Come for the emotion, and stay for the deft use of pop culture touchstones to explore identity construction. Daydreaming, Andrew sees himself as Adriano Calentano performing his hit song Prisencolinenprinainciusol , while Clara dances as Rafaella Carra in a classic musical number they performed together on TV (think of her as a combination of Mitzi Gaynor and Madonna). After all, do children see themselves and their parents as stars? Can you stop being so beautiful? Andrew screams at Clara after they escape a couple of leering strangers. Boy, she could not, even if she tried. 
If you were living under a rock in 2020 when the Calentano-Carra duet turned viral with over 5 million views, allow me to bring this beauty into your life.
SOMETIMES I THINK ABOUT DYING
After moving from Star Wars to the ACU - Agatha Christie Universe - in Death on the Nile (Kenneth Branagh, 2022), Daisy Ridley stretches her thespian skills by going inward, portraying a painfully shy Port Authority numbers cruncher contemplating romance with a new coworker. I was intrigued at first. The title, and some striking images illustrating her darker thoughts, hinted at some darkness in which the movie never quite engages.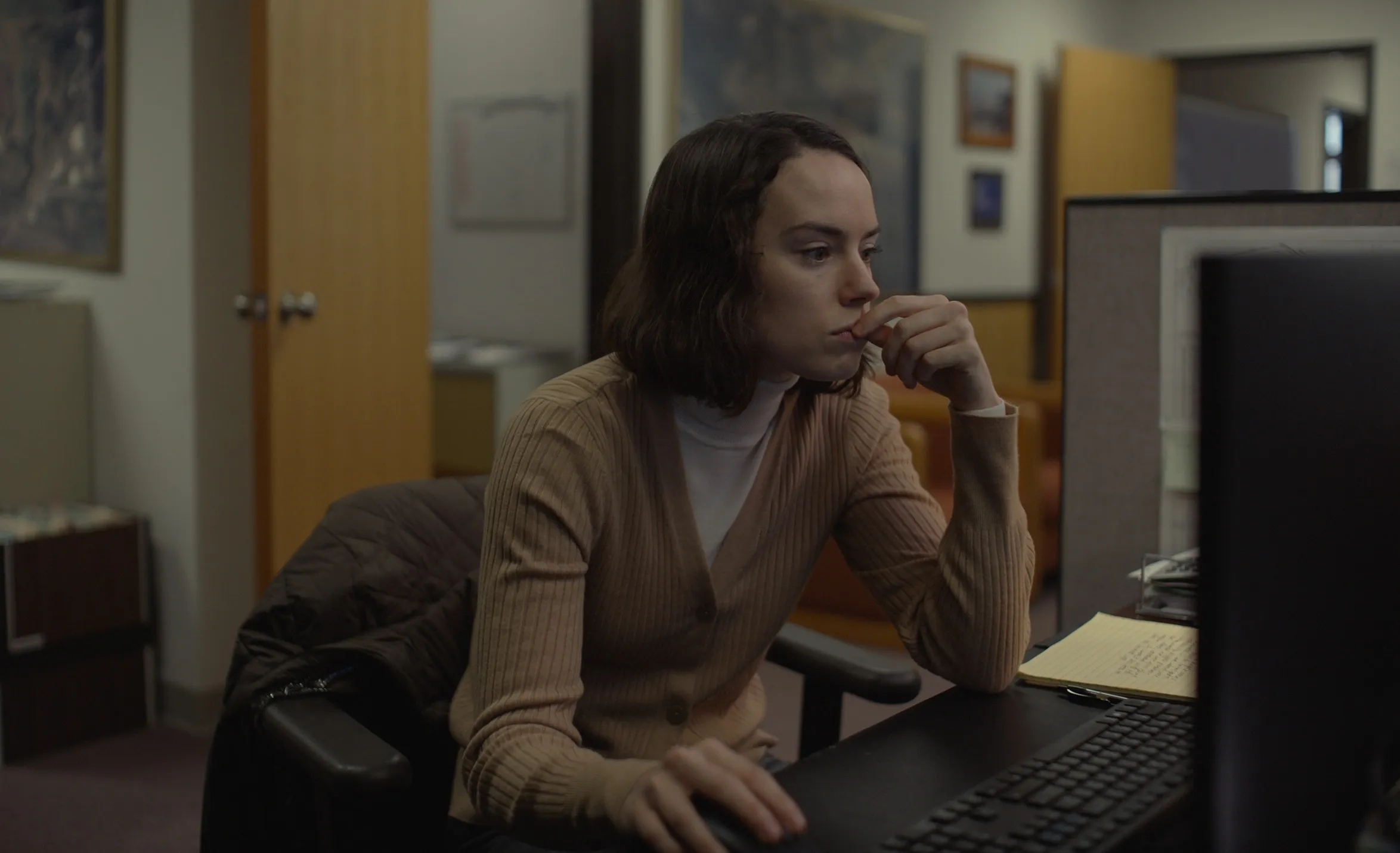 The perks of being a brit playing an American wallflower: Ridley in Sometimes I Think About Dying / Photo by Dustin Lane, courtesy of Sundance Institute
Maybe it is the northwest setting, the gray palette of the stiffed romantic emotions, but it feels like a parody of an indie film. A brit star playing an American wallflower baits you. Bubbly newcomers in supporting roles enliven things in fits and starts: Megan Startler does a more functional variation of her character in the series Hacks. Brittany O'Grady seems to be atoning for her mean girl in the first season of The White Lotus. They are welcome distractions in a didactic love story: this is how you let love in, kids!
BIRTH / REBIRTH
This one is a doozy. Director Laura Moss debuts with the kind of movie David Cronenberg or David Fincher would make if they were women. Rose (Marin Ireland) is an abrasive pathologist taking work home, namely, specimens that allow her to pursue her investigation into how to revive the dead. Things take a turn when she steals the corpse of Lila (A.J. Lister), the six-year-old daughter of nurse Celia (Judy Reyes).
The less you know going in, the better the movie will work. Moss, who also penned the script with Brendan J. O'Brien, offers a dark exploration into motherhood that will not quit. The film finds new life in the tropes of living-dead horror and offers meaty roles to her two leads. Even donning scrubs, Reyes is almost unrecognizable from her sunny days in timer-time comedy. Extra points for naturally folding her Latino culture into the movie world. So far, my favorite film at the Festival.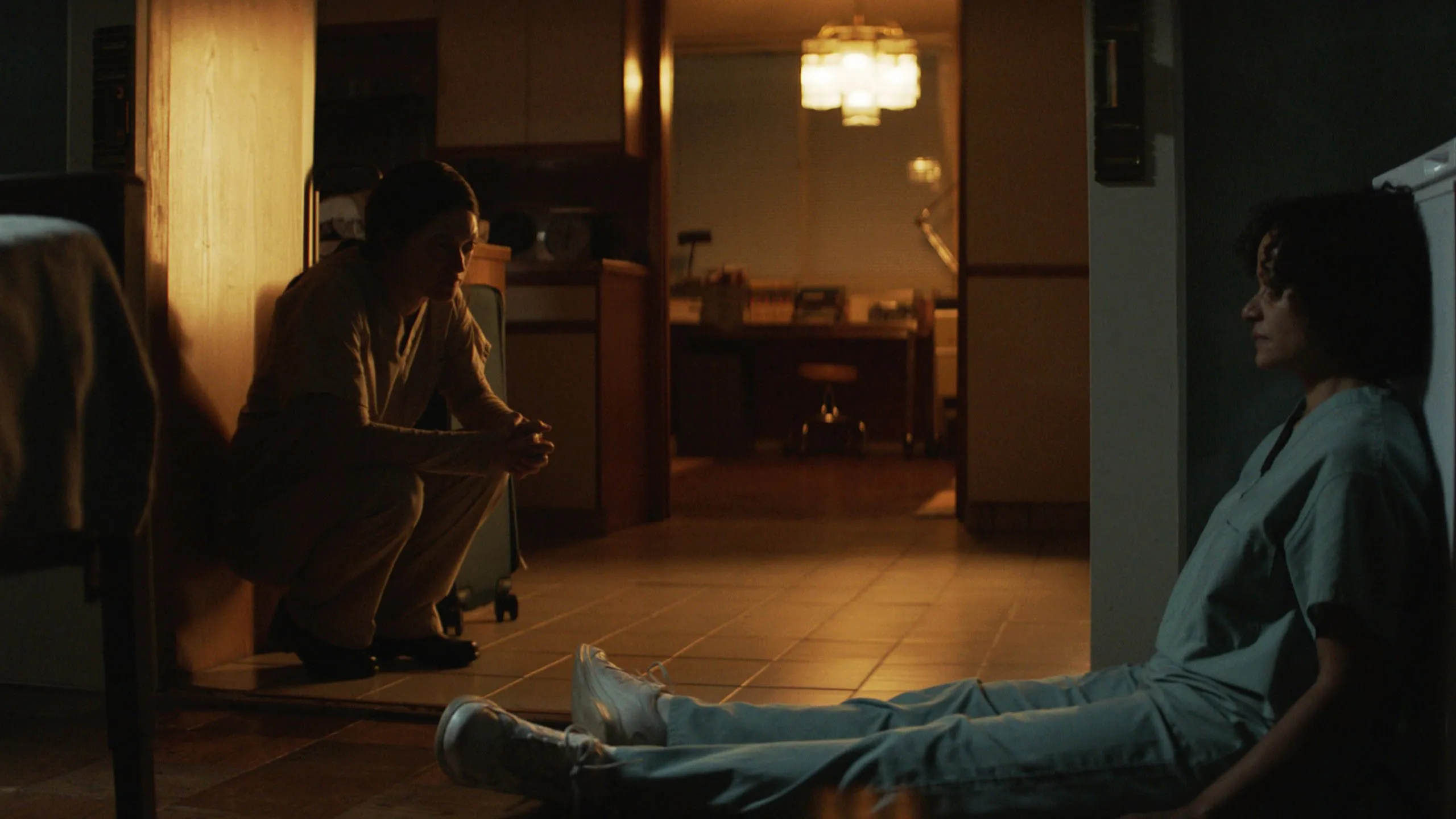 Unparalleled mothers: Marin Ireland and Judy Reyes in Birth/Rebirth / Photo by Chananun Chotrungroj courtesy of Sundance Institute