One of the most endearing traits of social-media-based cinephiles is how we latch onto holidays and themes to spread the love of film. With Halloween safely behind us, the time has come to celebrate Noirvember. Maybe the shorter days and the autumnal weather prime us to contemplate de depths of human depravation that only film noir can provide. Perhaps it is just because it sounds nice. Somehow, Noiraugust does not have the same ring to it.
Repertory cinemas and streaming services jump on the bandwagon with gusto. Check out Criterion Channel's November Noir. It is a tight selection of 21 films, including stalwarts like Brute Force (Jules Dassin, 1947) and Sweet Smell of Success (Alexander Mackendrick, 1957). It includes eight classics from Twentieth-Century Fox, conveniently organized in its submenu. Look out for Fox Noir in the November Collections.
I could watch Sydney Falco matching J.J. Hunsecker every day of my life, but it is true that maybe it is time to shake up things a little bit. Boutique labels and some streaming libraries offer an embarrassment of alternative riches. The catch is that you must know where to look for them. We will ease the work a bit, recommending throughout November lesser know classics to spice up your celebration of all things Noir.
The first confession in Dos Monjes / Photo: Filmoteca UNAM - Criterion Collection
We begin with Dos Monjes (Jaime Bustillo Oro, 1934). This unabashed classic is a primer example of the Mexican Golden Era of Cinema. The movie starts in a lugubrious monastery, where the devil possesses Brother Javier (Víctor Urrucha). Or so believes his fellow monks. The Father Prior (Beltrán de Heredia) sends the newly arrived Fray Servando (Carlos Villatoro) to tend to the man. He thinks the strength of his faith will help expel the demon. However, Javier attacks him when he enters his cell. The ambiance, expressionistic lighting, and supernatural intimations suggest a horror movie, but Dos Monjes is thoroughly modern in its narrative verve, switching genres with abandon. As fellow monks tend to the Servando, Father Pryor (Beltrán de Heredia) hears Javier's confession, which sends the movie into an extended flashback. 
Javier and Servando are not strangers to each other. In fact, they are, or were, almost like brothers. Javier is a composer suffering from tuberculosis. Servando's real name is Juan. He is a well-to-do dandy, so devoted to his friend that he becomes his patron, underwriting his musical career. Alas, love will tear them apart. Javier falls in love with his neighbor Ana (Magda Heller), and as he introduces her to Juan, it is obvious they have a shared history that will bring grief to all parties involved. 
Social mores might be mystifying for modern audiences. Ana lives with an elderly couple, in a style of servitude common to girls with some status but no monetary means. She provides company and helps with domestic chores in exchange for food, shelter, and entry into society. She is more than a servant, less than a protege. In the best-case scenario, the woman gets married off to a man of means. From his window, Javier sees the mistreatment Ana suffers, and in a striking backlight sequence, which plays out like shadow theatre, a violent encounter with a prospective suitor. She is kicked to the street but finds refuge thanks to Javier's mother (Emma Roldán). 
Eat your heart out, Orson!: Ana's intro in Dos Monjes / Foto: Filmoteca UNAM, Criterion Collection
Ana's introduction takes place at the beginning of Javier's flashback. It is a striking crane shot that begins wide in a piano salon. The camera moves from Javier to the window, crosses the bars, flies across the street, and closes in on her face, looking wistful as she listens to Javier playing. This bravura sequence calls to mind Orson Welles' dissolve-aided introduction to Susan Alexander in Citizen Kane (1941), with the camera plunging through a skylight into the bar where she drowns her sorrows. Also, the final shot of The Passenger (Michelangelo Antonioni, 1975), where we fly through the bars of the window in Jack Nicholson's room into the streets. Dos Monjes is full of inventive filmmaking gestures, unassumingly dispensed in an accessible plot moving at the pace of a careening train.
The movie is full of cinematic invention, but perhaps its niftiest trick is narrative. After Javier concludes his confession, Father Pryor goes to Juan/Servando, who tells the same story from his point of view. We get to see the same events from a whole different perspective. The subjectivity informs subtle changes in framing, editing, performance, and even wardrobe. Check out how the narrator is dressed in white or light colors while his foe appears in black. The colors switch from one episode to the other. Everyone is the hero of their own story. 
Eventually, Rashomon (Akira Kurosawa, 1950) would put a name to this narrative gambit. It is impossible to know if Bustillo or his writing partner José Manuel Cordero, had read Ryûnosuke Akutagawa's In a Bamboo Grove, the story that inspired the Japanese film landmark. It is unlikely that the 1922 story would have been translated into Spanish by the early 30s. But 16 years before Akira Kurosawa delivered his masterpiece, Dos Monjes offered a similar game of clashing points of view telling different versions of the same crime.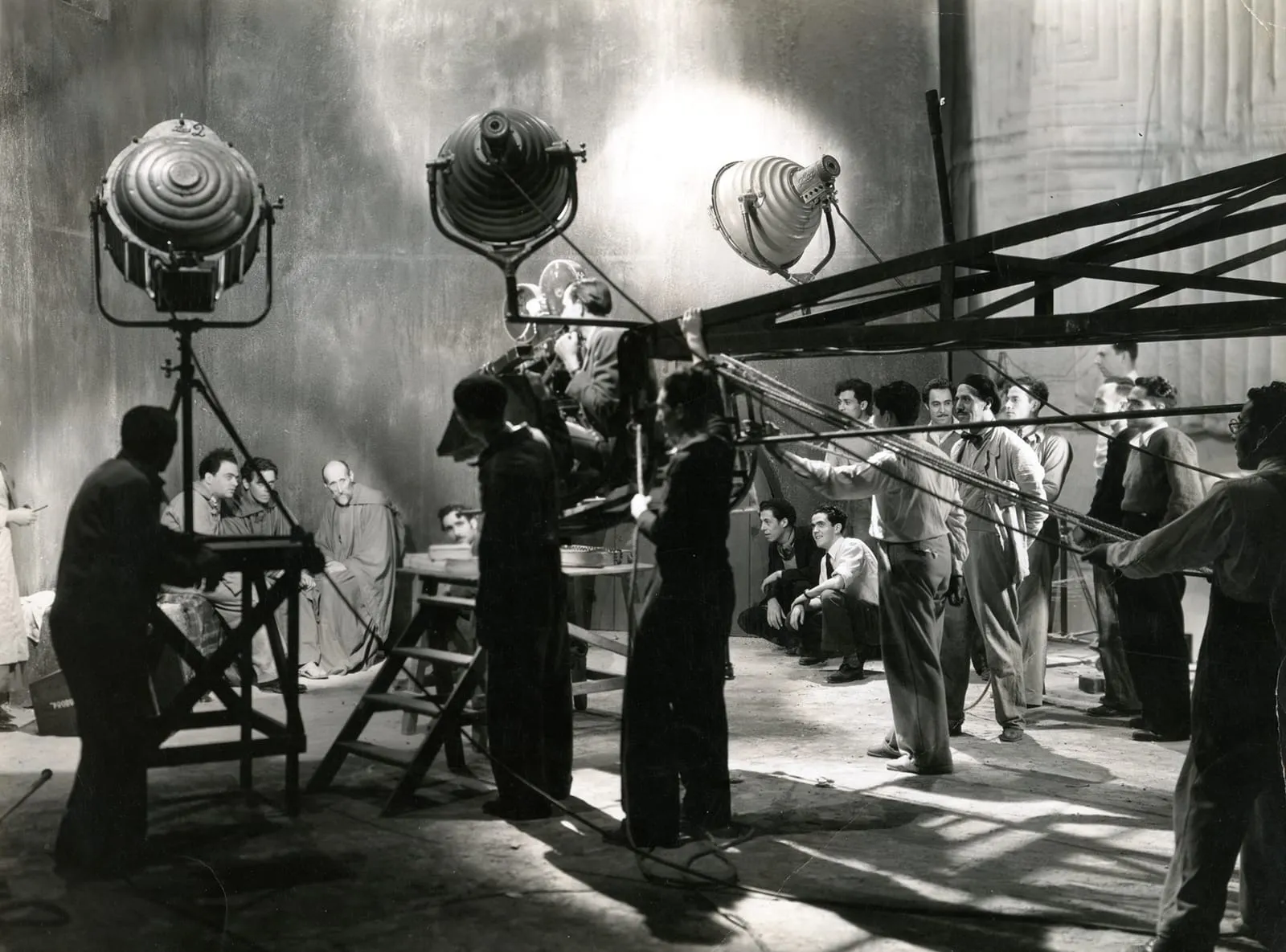 Juan Bustillo Oro and crew, shooting Dos Monjes / Photo: Filmoteca UNAM
Dos Monjes packs a wealth of cinematic imagination in its swift 1 hour and 20 minutes running time, putting to shame the 2-hours plus behemoths that pass as entertainment in Theaters. You will have to embrace black-and-white cinematography and subtitles, but trust me, it is not hard at all. The Film Foundation's World Cinema Project, in collaboration with the Filmoteca de la Universidad Autónoma de México and the Cinémathèque Française, joined efforts to restore the movie to pristine condition. Sound quality is as good as it can be, considering this is one of the earliest sound films of the Mexican industry. 
The movie is valuable via streaming at HBO Max and Criterion Channel. You will find in the later two welcome extras: an introduction by Martin Scorsese and a 20-minute analysis by the University of Texas at Austin Professor Charles Ramírez Berg. Criterion Channel featured a Double Feature with The Phantom of the Monastery, cheekily titled Felonious Monks. If you want to own it, Dos Monjes' restoration comes in Martin Scorsese's World Cinema Project Vol 3, edited by the Criterion Collection. Among the six movies included, you will find Lucia (Humberto Solás, 1968) and Pixote (Hector Babenco, 1980). These three make the set a must for fans of Latin American cinema.
I might be playing fast and loose with nomenclature by selling a 1937 movie as film noir, considering its heyday would come until the forties. We might be missing a jaded detective and a sultry femme fatale. On the other hand, we have the aesthetics, the sorrowful look at the faults of human nature, and the sense of impending doom. If the French film critics who articulated the label did it retroactively, I am sure they would not mind if we stretch it further back, especially for such a beautiful movie.