Theater director Mike Donahue moves behind the film camera with Troy. The comedy short follows Thea (Adina Verson) and Charlie (Michael Brown), a couple enthralled with the neighbor they hear all the time having sex through the thin walls of their New York apartment. It premiered at Tribeca and won Best Narrative Short at Outfest. We caught with up Donahue as he prepares to hit the 2023 Sundance Film Festival, where Troy will close its stellar festival run. 
Popflick: Mike, you have extensive experience in theater. What compelled you to jump into filmmaking?
Mike Donahue: It's something I've always been really interested in. There are storytelling devices available to you in a film that aren't available in the theater, like the way in which you can deploy narrative across time. In theater, it's really hard to change locations unless you're doing theater with nothing but the actors. So getting to tell a story across like 24 hours or 48 hours and really see the shift into people's relationship, the accumulation of a repetition of a thing…that sense of pacing and that sense of timing was really exciting to me.
House sitters run, fish die: Thea (Adina Verson) contemplates the collateral damage caused by Troy / Photo courtesy of Sundance Institute
Popflick: Is there some real-life experience behind Troy?
Mike Donahue: There is a bit of real life experience. We did have a neighbor who lived on the other side of a very thin wall and did have some very loud activities at all times of the day. But also the film deals a lot with questions of obsession and fixation and how when you're sort of settled into a routine and you're a bit isolated, there's a degree of loneliness, there's a degree of being starved for stimulation or for something new. Those are ideas that I've always been really interested in as a director. And so we were excited to explore some of that deeper, richer stuff with a setup that seemed at first maybe a little silly, and like a one-joke idea, and be able to subvert that and go further.
Popflick: You can sense the couple has fallen into a routine. They live in some sort of shared loneliness, but I don't think it's painted in a negative way.
Mike Donahue: That was something that was very important to us with this. I think we were all deeply uninterested in telling a story about a couple that wasn't in a healthy relationship. We wanted to look at a couple that was in a phase of their relationship where they were just overly comfortable with one another and overly settled and both in need of something to shake things up and sort of reignite things for them.
Popflick: You wrote the script with Dane Lafferty and Jen Silverman. How did the process of writing between the three of you work?
Mike Donahue: We work really closely in the theater together. Dane is a production designer, Jen is a writer, and I'm a director. The three of us were living in Sydney for a month and we basically just sat down on a beach for a day and talked through all the different ideas we were interested in getting at. There was a piece of intellectual property I was really excited about that was not available. And then we started talking about what from that IP felt exciting. This real-world experience we all shared kind of fitted the bill. We essentially just started storyboarding together, figuring out the actors we were interested in writing for, the events, and the narrative arc. And we sort of pieced together the ingredients that we wanted to play with and then structured that together. And then Jen went and wrote a first draft.
Popflick: The premise could easily play as a thriller. Why did you guys decide to make it a comedy?
Mike Donahue: I think because, for our first sort of like 16-minute piece, it felt important to do something with a sense of joy and buoyancy and heart. We came up with this idea before the pandemic, but we were living in a moment where I think we were all really starved for work that felt joyous and effervescent and life-affirming. And so I think that that that was what we were interested in putting into the world at the time. I do think we talked about it very much as a thriller, in a way that there's a sense of like, how far is this going to go? The whole film is a series of these little escalations that hopefully always stay grounded and believable, but the couple continues to do more unhinged and outrageous things.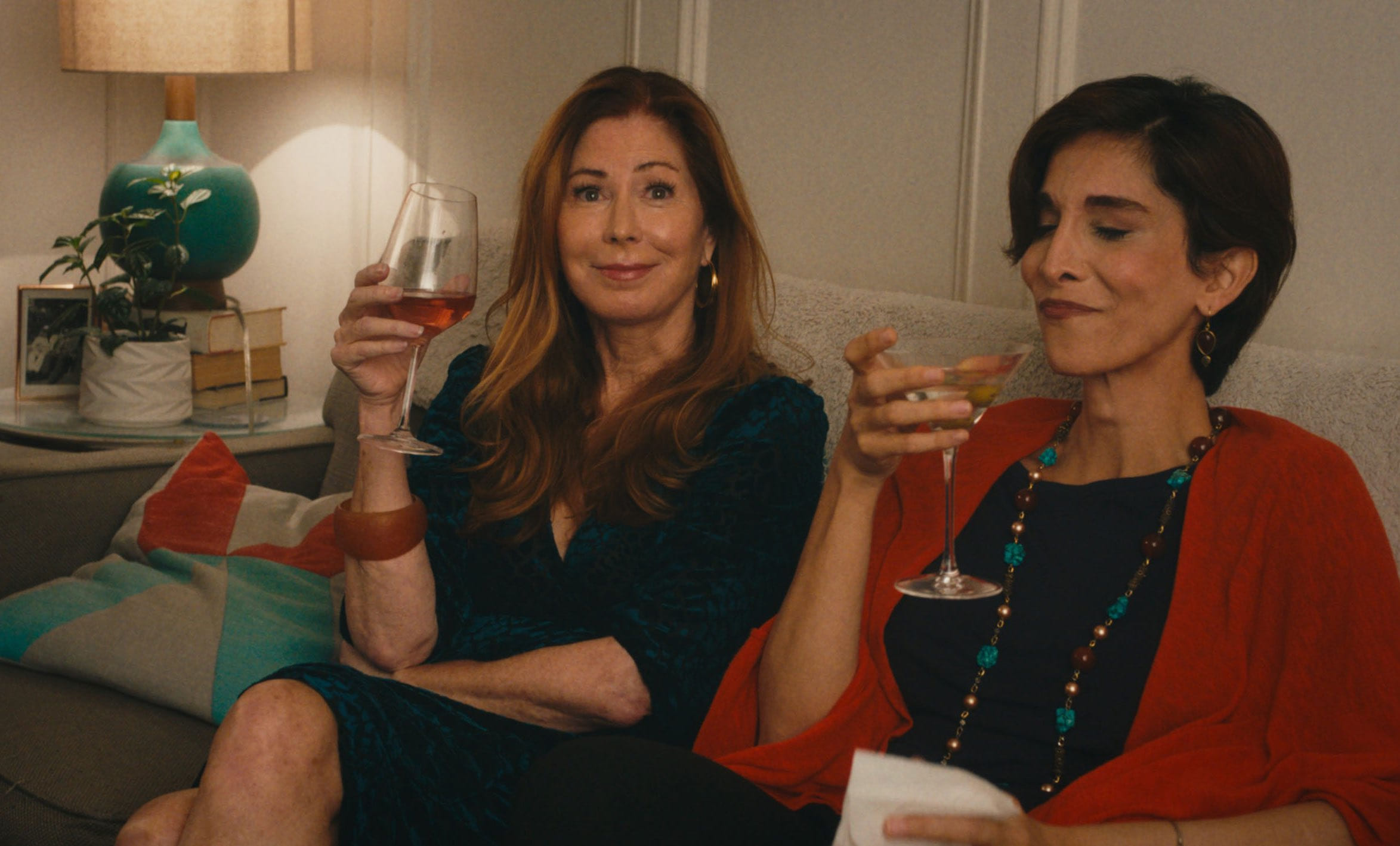 Dana Delany and Pooya Mohseni enjoy some wine and the sounds of lovemaking in Troy / Photo courtesy of Sundance Institute
Popflick: Adina Verson is coming off playing Poppy in Only Murders In The Building, and your cast includes Dana Delany and Dylan Baker. Is it hard for a new director to get talents of this caliber?
Mike Donahue: We set out to really specifically write for actors that we already knew from the theatre and create roles that would sort of showcase them. So Adina and Dana were both in a play that Jen and I did in New York in 2018 called Collective Rage: a play in 5 Bettys. Dylan was the first director I ever assisted when I got out of school. So we wrote roles for all these people we loved and had worked with before and were friends with. And then we got really lucky that they all said "yes", and "we're available."
Popflick: Troy is played by Florian Klein, an actual adult film performer. Was it important for you to strive for authenticity?
Mike Donahue: It did feel important. That was the one role we did not write for an actor we had in mind. We sort of had no idea who we were going to cast in that role because it felt important that that person not feel like an actor but feel like a real person in the world. It felt important if we were going to tell the story about this person who is a sex worker, that there be some authenticity in that casting. And I happened to meet Florian because he had written a musical set in the gay porn industry that was a sort of rom-com. After about a year of working on that together, I begged him, as a favor, to go into acting and do this for us.
Popflick: Once you were filming, did you miss anything in particular from the theater?
Mike Donahue: No! It was incredible! We only filmed for four days, but it was so extraordinary getting to work with actors on set because everything is so immediate. And you just have to laser in on one moment and get that moment and then, you can throw it away and never worry about having to repeat it. And in a theatre rehearsal process, you're always having to try to figure out how to remake something you did two weeks ago and still have it feel as alive and clear. And none of that existed. It was very liberating.
¡Check out our video interview with Mike Donahue!
* Troy is playing at the 2023 Sundance Film Festival on January 20, 21, 23, and 25.