Director Monica Stan creates an unexpected laboratory where a young woman can build her identity in Imaculat. Romania's candidate for the Foreign Film Oscar follows a young woman's stint at rehab. But overcoming substance abuse is far from the focus of this daring, intimate movie.
The immediacy is not the product of investigation. Stan herself went into rehab in her teenage years and channeled her experiences into the script. "It was more than just about me," she says. "My time in rehab taught me about human relations and how they relate to yourself, to your identity and self-image. And it was so much of a revelation at the time that I felt I could not keep it just for me."
Dimitrescu and Cezar Grumazesc in IMACULAT / Photo: Romanian Film Center
Daria, played with quiet intensity by Ana Dumitrașcu, gets addicted to heroin under the influence of a ne'er-do-well boyfriend. When the man is arrested and imprisoned, her middle-class family puts her in a rehabilitation clinic. But she will get more than they bargained for. "I felt it was important for young people, young women in particular, to understand how they might get seduced by the image others project onto them. And that is why they would try to please these people and might lose themselves in the process."
Stan is forthcoming about her experiences and finds life lessons that transcend the travails of addiction. "It is just how I was throughout my life, my teenage years and my adult years, and how I had developed myself and especially, concerning men and my attachment in relationships."
"I come from a middle-class family. My mother was a doctor, my father an engineer, educated people. Junkies and heroin addicts usually come or used to come from poorer backgrounds. So when I came there, everyone was like, 'What are you doing here?' I was really from a different world than they were. And this was part of the attraction they had for me. It contributed to this image of purity that I received, projected onto me at the time. They all wanted to have this good girl, different from the girls they would usually get in their environment who were street-smart and tough. They wanted this innocent, faithful, good girl, whatever they had in their fantasy."
Daria's relationship with the other patients highlight issues of class and gender. Her youth and social status set her apart from the others. Her devotion to a never-seen boyfriend unexpectedly moves Spartac (Vasile Pavel), the Alpha Male among the patients. A physically imposing bear of a man, he engages Daria in a complicated power play that veers towards emotional dependency. 
Pavel and Dimitrescu are stanger bedfellows in IMACULAT / Photo: Romanian Film Center
Spartac allows Imaculat to explore issues of race. His dark skin sets him apart from the rest, but his assertiveness and imposing physique make him leader of the pack. Once his position cracks, the others put him down. In one of the most overly violent scenes he gets called racial slurs. An otherwise obsequious white minion barks at him dirty gypsy. For Stan, it is a reflection of the world outside the clinic. "There is a lot of racial discrimination in Rumania regarding Roma people. And this had to come through a certain layer of the film. The clinic functioned as a microcosmos because it amplifies the social forces that are already out there."
Imaculat conveys this microcosmos with austere visual style, mostly in tight close-ups and medium shots. Forget about exterior, wide shots or montages giving you a sense of time and place. It took Stan some effort to convince co-director and director of photography George Chiper that this was the way to go.
"We were working on the decoupage and just close shots, and he was initially a bit annoyed. He said, 'You cannot shoot the whole film in close-ups, you know?' And because I did not go to film school, I was like, 'But why? You cannot shoot this in close-ups?'" 
In time, he came around. "When we filmed, we also did wider shots and stuff. But as we got longer into the shoot, we realized we would not need those shots. It was just better to stay close because this gives you the intimacy feeling, also the claustrophobic feeling necessary to make this an immersive experience, and not just the descriptive experience of what the character is going through."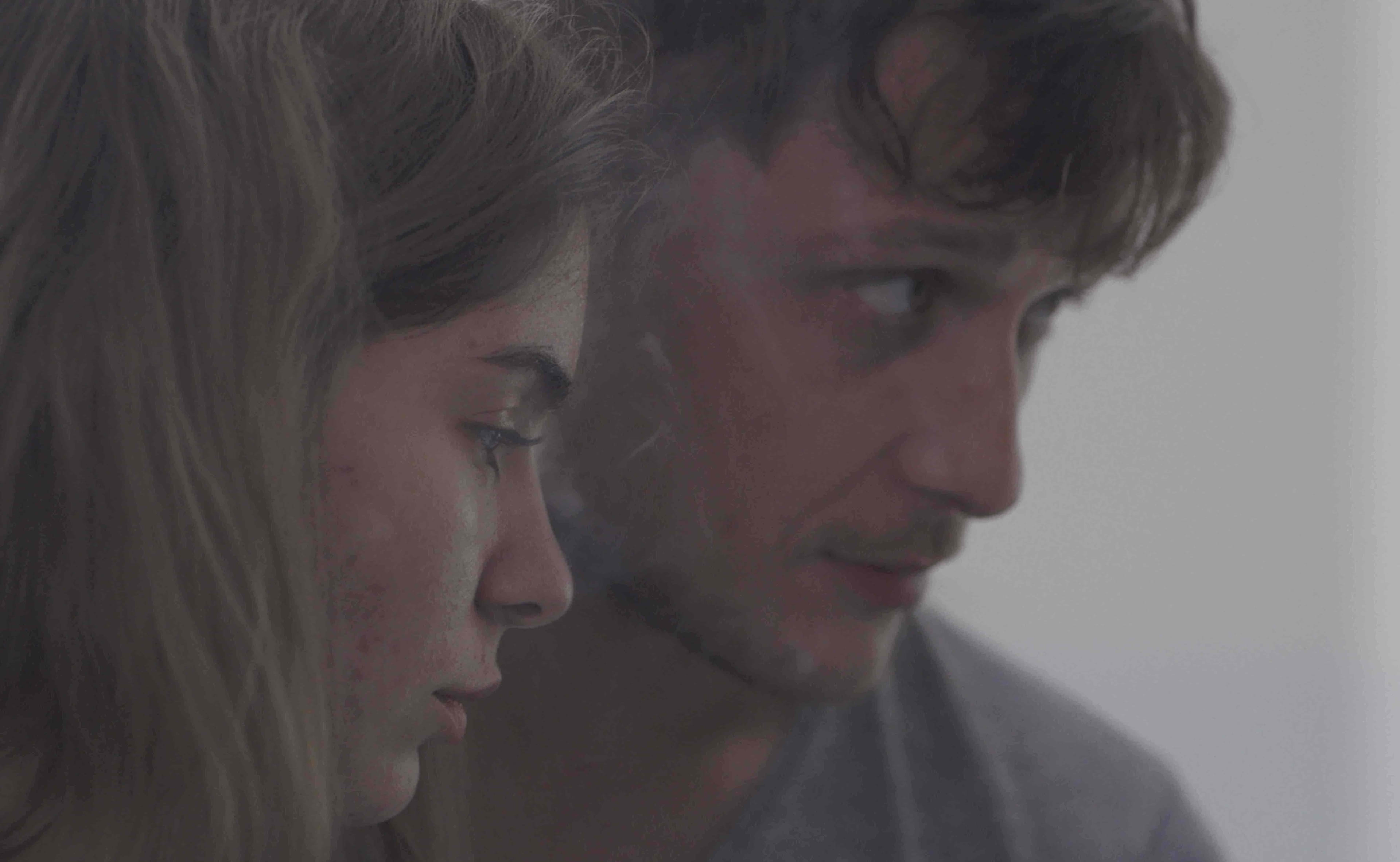 Dimitrescu and Grumazesc in IMACULAT / Photo: Romanian Film Center
Chiper is a veteran DP whose work can be seen in the Golden Bear-winning Touch Me Not! (Adina Pintilie, 2018). He directed three shorts and one feature documentary. He was the best possible creative partner for Stan, who cherishes their collaborative process. "It grew organically. I was more involved in the pre-production phases, the editing and post-production. George was more involved before and during the shoot. On the set, I was more involved with the actors, and he was more involved in the mise en scene, arranging the mise en scene. These were our strengths, and we complemented each other."
Imaculat rides the wave of New Romanian cinema. In the last decades, it conquered the international art-house with hard-hitting realism, visible in works as contrasting as the drama 4 Months, 3 Weeks and 2 Days (Christian Mungiu, 2007) and social satire Bad Luck Banging or Loony Porn (Radu Jude, 2021). The tight shots conjured by Stan and Chipper push realism to abstraction. "Many people, many spectators have questions about this. They did not understand what they just saw, but they felt it. At a certain point, they go through what Daria goes through. They are in that space. There is no privacy. They are so close to other people. They feel her discomfort."
It is the kind of discomfort that comes from powerful aesthetic experiences. Imaculat might as well get an Oscar nomination for its audacity. In the meantime, Stan is ready to try new things. She is already planning her next film."It is going to be more like going outside." Get ready for some exterior shots.
Want to get an email when we publish new content?
Subscribe today