Andrew Fitzgerald has had a hand in the pulse of modern comedy as editor of cult comedy shows likeI Think You Should Leave with Tim Robinson and The Rehearsal. Instincts he developed cutting the antics of Nathan Fiedler and Tim Robinson came in handy to direct The Family Circus.
In this tense comedy, a Vietnamese-American family in the suburbs of Philadelphia is in for a tense Christmas night when their eldest son causes a slight car accident. They consider reporting the event to the police, but their son Paul (Blake Dang) already has a DUI ticket. Since Mom (Elyse Dinh) is Vietnamese, and he looks decisively Asian American, chances are the justice system will not be too friendly. Straight-arrow brother John (Michael Nguyen Manceau) offers to take responsibility. Next to Dad (Scott Subiono), he tries to play up a grizzled cop (Michael Ironside) on the graveyard shift, and things do not go as planned. We spoke with Fitzgerald days before facing Sundance audiences. 
Crash into me: Blake Dang has a gift for trouble in The Family Circus / Courtesy of Sundance Institute
Popflick: What skill did you develop as a comedy editor that helped you direct a short like this one?
Andrew Fitzgerald: One of the main things is to strive for clarity. To really be concise with an idea and a storyline especially. The stories in shows like Nathan for You and The Rehearsal need a lot of clarity because they overflow with ideas. So, you need the ability to give the audience a clear thought line through a very convoluted story. I would say that is the key takeaway for me.
Popflick: There is an autobiographical story behind The Family Circus. When you write about an episode from your real life, do you need to take distance from yourself? Is that even possible?
Andrew Fitzgerald: I had to find some remove from it.It was very tricky. As it went on, the more surreal it became. I told myself, 'I am not looking to cast someone that is me. I am not looking to cast my mom. These are real people. They may have some of the same attributes as my family and myself, but I need to view them objectively in order to be able to tell the story.' The weird thing about it was that I was working on editing The Rehearsal during the casting process. I was cutting the episode where Nathan opens an acting school to find replacements for the other people. So I was in this world of just doppelgängers and doubles. It was hard to sort out what was what!
Taking a brotherly fall: Michael Nguyen Manceau in The Family Circus / Photo courtesy of Sundance Institute
Popflick: What was the most difficult about writing?
Andrew Fitzgerald: The writing came together pretty with ease. I do not mean writing is easy for me. The experience was fresh in my memory and easy to pull from it. It was just like reporting on what had happened. Getting the project going became difficult. The script was about 22 pages. We shot it all in three days, and I had never worked with a cast this large. So just juggling all those relationships and the logistics was pretty difficult.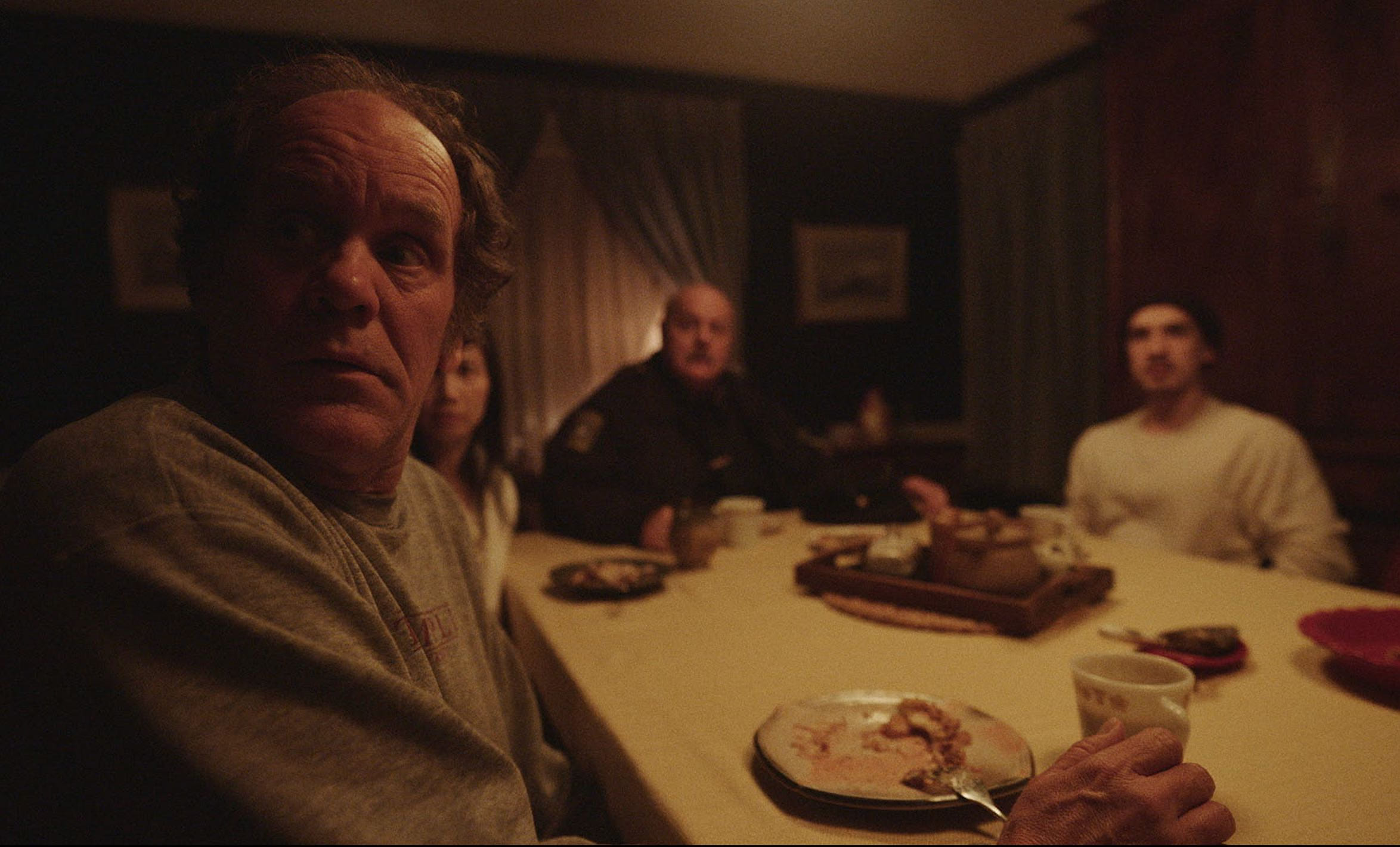 The cop who came in from the Christmas cold: Subiono, Dinh, Ironside and Maceau have pie in The Family Circus / Photo by Sing Howe Yam, courtesy of Sundance Institute
Popflick: The premise could play like a light comedy or a farce, but you convey a particular suspenseful tone. Even the music is pregnant with menace. Did you find this tone along the way?
Andrew Fitzgerald: No, it is all very intentional. I wanted a seemingly little incident to feel very large for these people. When it was happening in real life, I thought, 'I am in the middle of a film noir' and that stayed with me. So to recreate that feeling on film, I used all of those genre elements to really heighten the whole thing. And I think it works because the emotions characters go through are real. The fear of just doing the wrong thing. Here are just these normal people, well-behaved and well-adjusted, that have to do something out of character and the anxiety and terror that brings about for them.
Mother knows best: Elyse Dinh tells hard truths in The Family Circus / Photo courtesy of Sundance Institute
Popflick: Do you feel any sense of responsibility about portraying the experiences of Asian Americans on film?
Andrew Fitzgerald: I do not feel a responsibility. I want to do something meaningful that feels real to me, and I hope that it resonates not just with specifically Asian-Americans but with people in general and with families. There are differences between all the characters, but I think it is relatable in what their dynamics are and what it is like to be a 20-something-year-old living back at the parental house. But I did want to touch on the dynamics between the son and the mother. You know, just that generational divide of the mom coming to this country and wanting to blend in, and then have her son be someone who wants recognition for where he is from and what his culture is and the tension that comes from that sometimes as well.
Popflick: There is a pivotal scene where a character says a line in Vietnamese, but there are no subtitles in English. Do you want the viewers to feel outside of the world the characters inhabit so that they experience otherness for a few seconds?
Andrew Fitzgerald: Yeah, absolutely. So much of the film is about miscommunication and misunderstanding. At that moment, if you do not know the words coming out of her mouth, you still understand what she says. You know what she means. And I think that transcends just the differences that people have. When you see an emotion like that, you understand it.
Popflick: The performance is transparent.
Andrew Fitzgerald: The credit belongs to Elyse Dinh, who plays Linh in the film. And I do not know Vietnamese myself. Growing up, my mom did not pass that on to my brothers or me. I would have people like my grandmother and her friends around me speaking Vietnamese. I would hear it, but I had no sense of what they actually said. But, you know, I could pick up a little.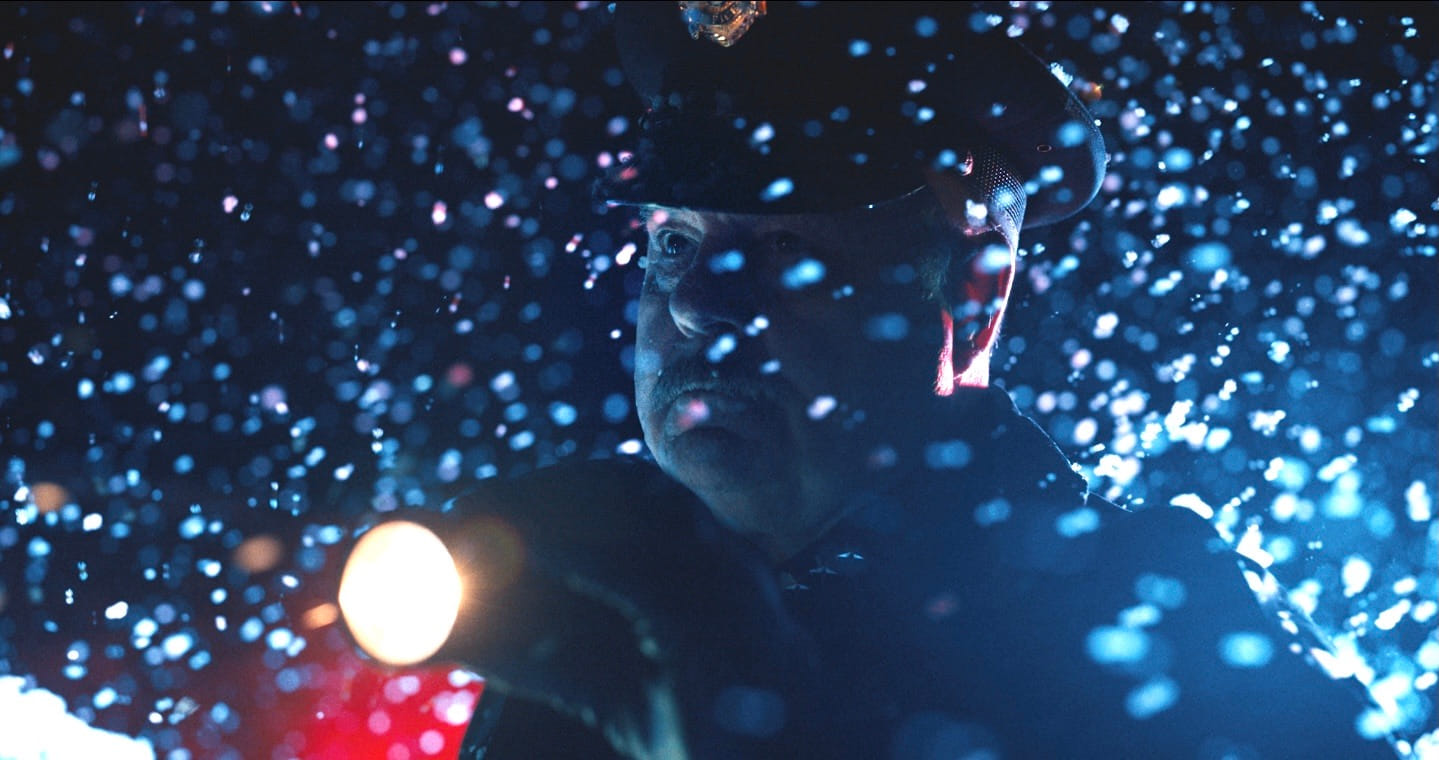 Michael Ironside, bringing street cred to The Family Circus / Photo courtesy of Sundance Institute
Popflick: Michael Ironside plays the cop. How did you get him? Can new filmmakers be optimistic about finding established actors for their shorts?
Andrew Fitzgerald: Our casting directors Mike Page and Arlie Day, facilitated it. Hats off to them! We were shocked. We sent him the script and sent him an offer. We obviously did not have much money for the cast, but he responded immediately. I talked to him hours after he had read it, and he said, 'Yeah, I like the writing. I want to be a part of something with good writing.' So my advice to filmmakers, as far as that goes, is to pay attention to what you put down in your script and make it as relatable as possible. Put your best work out there, and people will respond to it.