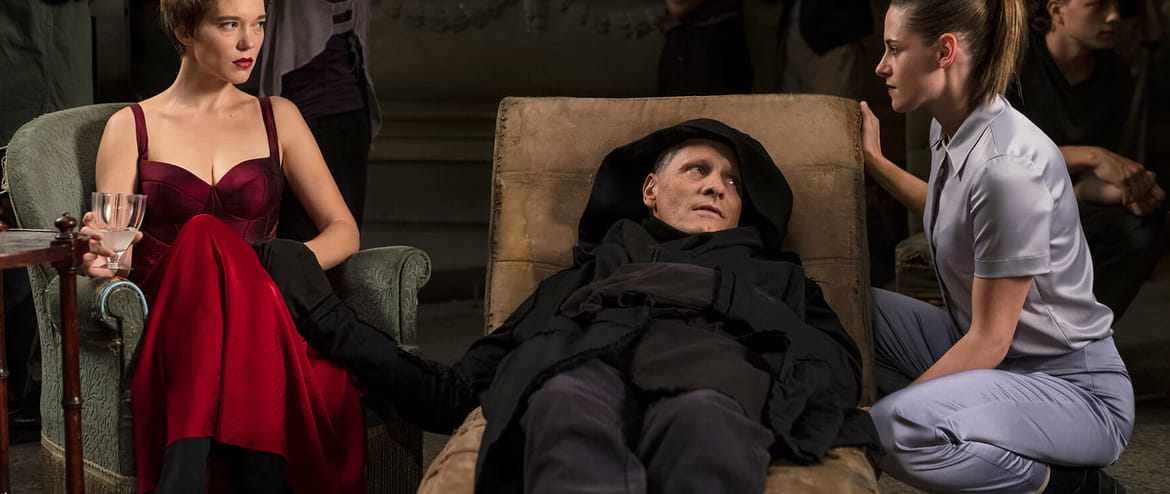 Organic art: Seydoux, Mortensen and Stewart in Crimes of the Future / Photo: Nikos Nikolopoulos ©Serendipity Point Films 2021
Eight years is too long to go without a David Cronenberg movie. The horror master returned behind the camera to regal us with Crimes of the Future. Completists may short-circuit, thinking this is a remake of his early 1970 movie of the same title. The director disavows any connection. He likes the title, he says. However, you may find some thematic resonance if you see the original. If you are curious, it is miraculously streaming on the Criterion Channel.
The new Crimes of the Future develops in a low-key dystopia where the world has gone to seed. Nobody says global warming, but some environmental catastrophe has altered life as we know it. As a response, evolution is on overdrive. Humans do not feel pain anymore, and infections have disappeared. Some, like Saul Tenser (Viggo Mortensen), develop new organs with unknown functions. The condition is called Accelerated Evolution Disorder. He lives in constant pain, but at least he gets to make art out of it. Former surgeon Caprice (Léa Seydoux), his romantic partner and collaborator, helps him stage performances where she extracts the extra organs for an appreciative audience.
Have a heart, or two, or three: Mortensen and Seydoux in Crimes of the Future / Photo: Nikos Nikolopoulos ©Serendipity Point Films 2021
He is one of many artists engaging in this new medium. We see glimpses of a performance by Klinek (Thasos Karalanios), a dancer with spare ears growing all over the body. Tenser's condition is so common that a cottage industry serving the needs of people like him has developed. He sleeps in a floating bed with sensors that connect to his hand and feet, managing his pain response. A bizarre chair with moving parts allows him to eat. We get much comedic mileage out of Router (Nadia Litz) and Berst (Tanaya Beauty), a couple of maintenance technicians who fetishize the hardware. Their zealotry is a wink at the cult of tech. When they sight at a discontinued surgery table, they might as well be fawning at the newest iPhone.
Fear of the unknown unleashes the worst in people. In a shocking prologue, a woman (Lihi Kornowski) kills her seven-year-old son, Brecken (Sotiris Sozos). The boy was born the capacity to eat plastic. This ability dehumanizes him in the eyes of his mother, who keeps referring to him as a thing. The infanticide is her way of getting back at her husband, Lang Doticre (Scott Speedman), leader of a group of environmental activists. They surgically modify their digestive system so that they can consume and get nourishment from polluted plastic, which they manufacture in the shape of purple candy bars. If a non-modified human eats them, they die poisoned in seconds.
Their shenanigans are frowned upon by the government, which wants to regulate what it means to be a human in this brave new world of organic anarchy. Inspired by Tenser, a National Organ Registry opens. Loopy Whippet (Don McKellar) and twitchy Timlin (Kristen Stewart) manage the operation. They fawn over the artists as if they were school kids, not sinister bureaucrats. Tenser's involvement with the regime goes further. He is an informant in a covert operation to track the plastic eaters. His handler, Cope (Welket Bungué), has a growth in his hip. Does that make me an artist?, he asks cheekily. 
Apparatchiks and fans: Stewart, Bungué and McKellar defend the party line in Crimes of the Future / Photo: Nikos Nikolopoulos ©Serendipity Point Films 2021
A lot is going on in Crimes of the Future. Part of the fun comes in watching how Cronenberg, who also wrote the script, builds this strange world without making much of a fuss about it. Exteriors are shot in nocturnal Greece, giving the place an elusively foreign atmosphere. A biting sense of logic governs life. Once deprived of the capacity to feel pain, to maim the person you love and play around with the wound becomes a display of affection. Who will want to kiss when you can be handsy with the entrails of your beloved? Voluntary body modification becomes a way to regain control of the body. Caprice watches a beautiful model carving her face with gills-like wounds, which inspires her to get some subcutaneous bumps in her forehead.
At its most poignant level, Crimes of the Future is the portrait of an ideal marriage. Tenser and Caprice set relationship goals for the XXI century. They have a warm, playful rapport, and she is the rock on which his inescapable vulnerability rests. The exercise of art folds into the mix. You can say that Tenser has no choice but to do what he does, but Caprice willfully chooses it. It is rare that a movie makes compelling drama out of contemplating a happy couple.
See no evil, hear no evil: Karahalios gives you many ears in Crimes of the Future / Photo: Nikos Nikolopoulos ©Serendipity Point Films 2021
Over four movies, Cronenberg and Mortensen have been dismantling the armor of masculinity. By now, the actor is free to play a man as pure vulnerability. Furthermore, Tenser is a little bit of a dweeb. You can see Cope running circles around him. When he is not lying down, he sits down astride, almost kneeling, as if this were the only position in which he can feel any relief. He wears a ridiculous hooded cape everywhere he goes. Of course, he still looks like Vigo Mortensen. So it does make sense when Timlin behaves like a fan girl around him. Surgery is the new sex!, she says in a eureka moment after watching the Tenser and Caprice perform. Stewart is hilarious in a mannered, fidgety performance that works as a call back in the key of comedy to Keira Knightley's much-maligned work for Cronenberg in A Dangerous Method (2011).
Under its mournful tone, Crimes of the Future eventually reveals itself as an exhortation to accept your true self. Tenser may be inadvertently holding on to an outdated way of being by extirpating his new organs before they manifest any utility . Maybe he is causing himself pain. The idea tickles down between episodes of barely suggested intrigue. A clandestine inner beauty pageant tries to recruit Tenser as a contestant. Dotrice wants him to perform an autopsy on Brecken, to prove nature is getting on the plastic-eating bandwagon. As you can imagine, the government stand-ins will not sit idly while this is happening.
Crimes of the Future closes with an ambiguous final shot, open to two opposite interpretations. It is the kind of ending that frustrates and enchants in equal parts. At least, there should not be any debate around the high caliber of the acting. Speedman cuts a tragic figure that should open up doors for him. Mortensen is appropriately soft and vulnerable. Séydoux gives a beautiful, warm performance. During one of the performances, she performs a monologue about art that works as a touching declaration of principles. In a movie full of extra organs, she is the beating heart without which nothing else would survive.
* Crimes of the Future is streaming on Hulu.
Want to get an email when we publish new content?
Subscribe today